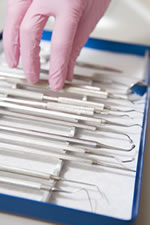 Dr. Vertin shares your concern about the spread of disease and works hard to safeguard his patients, and staff, against infection.
When you visit our office, you will see a clean office carefully maintained by well-trained staff. Our dental team always wear gloves, eye protection and complete protective wear during each procedure. After each patient, they discard those gloves, wash their hands and put on a new pair of gloves.
Your protection starts long before you ever enter the treatment room. Here are a few of the things that you don't see: All surfaces are cleaned and disinfected, staff members sterilize all instruments after their use and dispose of anything that is potentially infectious.
To protect your health as well as our staff, we adhere to what is called "Universal Precautions." That means we use the same protective measures with every patient to prevent the transmission of diseases.
Dr. Vertin and his staff want you to know that your protection, care and comfort are our top priorities. That is why we meet, or exceed, the highest infection control standards.
If you have any concerns or questions, please contact us.